"Everyone needs to be valued. Everyone has the potential to give something back if only they had the chance." – Princess Diana.
Introduction
Diana, the Princess of Wales, was an international icon of the late 20th Century. She was admired for her innovative charity work. She was married to Prince Charles in 1981, but their troubled marriage led to a divorce in 1992. She was more a humanitarian figure than a political figure. Diana died in 1997 due to car crash when they were chased by paparazzi.
Achievements:
AIDS
In 1987, Diana opened the U.K's first HIV and AIDS ward at London's Middlesex Hospital. She became one of the celebrities to be photographed, shaking the patient's hand who was a victim of AIDS, without gloves. Throughout the 1900s, Diana continued to visit the patients of AIDS worldwide to give them a support. That includes Harlem Hospital, a children's hospital in Brazil, and hospice in Toronto, Canada. In 1991 at the Children and AIDS Conference, she gave a speech to encourage people that HIV does not make people dangerous so you can give the patients a hug and shake their hands. She also mentioned it was safe to share a home, a workplace, or a playground with an infected adult or child.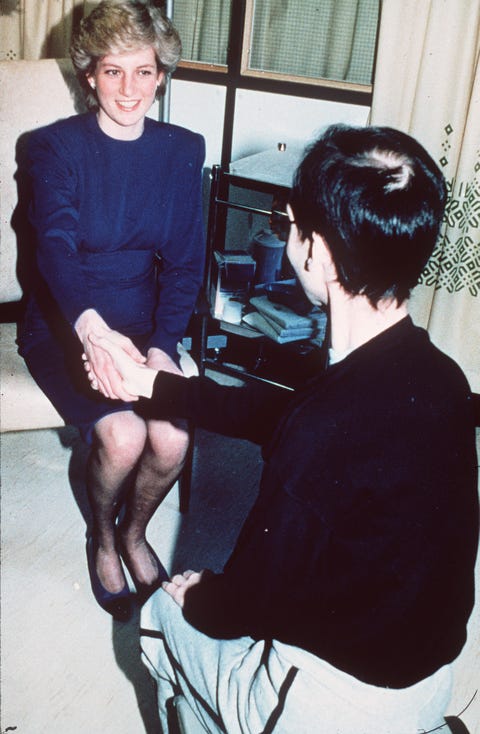 Impact
In the 1980s, the stigma around the disease was uncontrollable. Many people were afraid of disease and they thought it could be contacted by touch alone. Patients of AIDS were ignored and avoided because of a sexual connotation that AIDS had. So, visiting the victims of AIDS was a very significant action in changing people's opinions and attitudes to the disease. She was able to send the message to the world that AIDS could not be transmitted by touch and we must help the patients.
Landmines
In 1997, Diana traveled to Angola, the place that was affected by the landmines. She took a picture of her, stepping out onto an active minefield. Diana's trip to Angola was reported all around the world. She came across the work of Halo Trust that had been working to clear mines in Angola since 1994. She met children who were the landmines survivors in Angola and then visited victims of mines in Bosnia, the country that is also affected by landmines, and both her visits were photographed. She focused the world's attention onto this issue. At the time of negotiations ongoing to initiate the Mine Ban Treaty, Diana appealed for an international ban on landmines. After the exposure she gave the issue on her visit, and her death, in September 1997, Bill Clinton, a 42nd president of U.S., and his wife Hillary had been touched by the Princess of Wales' visits to young victims of such mines in Bosnia and Angola. The Mine Ban Treaty was written in Oslo and took on the luster of a humanitarian memorial to Diana and her cause.
Impact
The civil war in Angola remains one of the world's most heavily landmine-contaminated countries. At that time when she was in Angola, she was probably the most recognizable and incredible person. Her visits and the photo of her with a young girl with an amputated leg became a turning point for the world to put a spotlight on Angola and its landmines. After her death, her son, Prince Harry, has taken a role to continue his mother's work. Over the past 22 years, several countries have made huge strides on clearing landmines.
Iconic status
Lady Diana married the Prince of Wales, receiving the title "Her Royal Highness Princess of Wales" in 1981. She was a very sympathetic and compassionate person. She met people who were ill at ease and empathized with people's suffering. she even broke protocol many times to make a point. Most of the time, she did not wear hats or gloves, so she could feel one with the people she was shaking hands with. She also portrayed a very stoic and positive energy. In the interview with BBC, she revealed her wish to be "Queen of hearts".
Legacy
Even though she was born to an aristocratic family with links to the Royal Family, she didn't follow the traditions of the Royal Family. Which it impressed the world by breaking the traditions and showing a new style of the Royal. After her death, her work lives on in the form of the commemorative charities, and the projects to help others.
Recognition in the world
The death of Diana had an extreme impact on the British public and those in other countries. There were widespread grief and sympathy for her tragic death. Over 1 million bouquets of flowers were laid at Buckingham Palace. Countless millions of people around the world watched her funeral. British Prime Minister Tony Blair called her as "the people's princess".
Citation
Pettinger T. (2013). "Princess Diana Biography". Oxford, UK. https://www.biographyonline.net/people/bio-princess-diana.html
Dibdin E. (2020). "The True Story Of Princess Diana's Groundbreaking AIDS Advocacy". https://www.elle.com/culture/movies-tv/a34732735/princess-diana-aids-activism-the-crown/
Vincenty S. (2020). "How Princess Diana Changed the Way We Think about AIDS". https://www.oprahdaily.com/entertainment/tv-movies/a34550472/princess-diana-aids-charity-work/
Haynes S. (2019). "Prince Harry Is Honoring His Mother's Work in Angola. Here's What to Know About Princess Diana's Landmines Walk". https://time.com/5682006/princess-diana-landmines/
Balakrishnan R. (2019). "5 ways in which Princess Diana changed the world for good". https://yourstory.com/herstory/2019/08/princess-diana-humanitarian-crusader-royal/amp
"Diana, Princess of Wales".https://www.royal.uk/diana-princess-wales
Business Insider. (2019). How Diana, 'the peoples' princess', changed the world". https://www.scmp.com/magazines/style/celebrity/article/3025807/how-diana-peoples-princess-changed-world-forever?module=perpetual_scroll_0&pgtype=article&campaign=3025807