By Estelle Kim and Yvonne Du
Introduction
China–United States trade war is an ongoing economic conflict war between China and the United States, which started on July 6, 2018.
The trade dispute originated when US President Donald Trump signed a Presidential Memorandum on March 22, 2018, saying that "China has thief intellectual property and American technology" and required the US Trade Representative to set approximately $60 billion tariffs and other trade barriers under Special 301 Report in order to force China to change "unfair trade practices". The Chinese Government has accused the Trump administration of engaging in protectionism.
On January 15, 2020, both sides reached the first phase of the agreement, but tensions still exist.
Terms to Know
Intellectual property : creations of the mind, such as inventions; literary and artistic works; designs; and symbols, names and images used in commerce.
Presidential Memorandum: a type of directive issued by the president to manage and govern the actions, practices, and policies of the various departments and agencies found under the executive branch of the government.
Trade barrier: government-induced restrictions on international trade.
Unfair trade practices: It can be defined as any business practice or act that is deceptive, fraudulent, or causes injury to a consumer. These practices can include acts that are deemed unlawful, such as those that violate a consumer protection law.
Protectionism: the economic policy of restricting imports from other countries through methods such as tariffs on imported goods, import quotas, and a variety of other government regulations.
(All credits for Wikipedia!)
Your Task
You are an American management counselor. The current trade war is exacerbating and deteriorating the economy and relations between the two countries at an alarming rate.
In the present acute situation, you will be ready to in an international interview recently. In response, you will give plausible analyses and explanations about the following questions. The answer may provide some key ideas about the trade war for the public.
During this trade war, who is the real beneficiary? And who is the victim?
Please follow this structure:
Why are they being the beneficiary and victim during the trade war? Provide your detailed explanation.
How has the trade war led them to this result?
Does the trade war provide more advantages or disadvantages globally?
During the trade war between the U.S. and China, are there any other countries which got benefits and damages?
Before you start to read it below, this video will help you to build basic information about the trade war and to answer the questions.
Your Journey
Geography
Geography is not merely a physical map. You need to analyze it in terms of history, culture, global situation and religion. Generally speaking, the most direct impact of the trade war is the United States and China. It may affect the GDP of many regions through indirect channels, such as the reduction of productivity due to uncertainty and changes in the production environment. In addition, there is no direct impact on European consumers, but this conflict is regarded as a major threat to global economic growth. Considering that the trade war happened between the two largest economies, they are the principal markets for many other countries and regions. The products requirement from other places may be reduced, including Europe. Yet, the trade war led countries such as Vietnam and Malaysia, have become beneficiaries of the trade war. Vietnam is by far the largest benefit, gaining 7.9% of GDP from trade diversion.
History
Conflicts between countries seem inevitable to protect themselves and to improve their economic power. As they interact, they come into conflict with each other with tension increasing tensions. Trump has expressed his aggressive opinions towards China. Trump started to impose tariffs on Chinese goods with accusations.
The United States and China are one of the top trading countries. Businessmen around the world focus on the economic flow of them as they rely on each other's products and resources. They are also the world's biggest exporters. Why has Trump imposed tariffs on Chinese goods even though it is harmful to the growth of the international market?
Politics
Trump's strong will to China had continued even before he was elected. He made a platform about the U.S.-China trade relationship to support American businesses and workers. Before he ran for president, he wrote "China is neither an ally nor a friend- they want to beat us and own our country." on Twitter. While he campaigned for the presidential nomination, he said "We can't continue to allow China to rape our country and that's what they're doing. It's the greatest theft in the history of the world.". Are there any political benefits, which support Trump's political position? Did Trump's platform influence voters in the presidential election in 2016 in any way? If so, does it still influence Trump now?
Economy
The trade war disrupts the growth of the economy. The damage caused by the trade war weakens ongoing economic concerns such as decreasing demand for the stock market, and even leads to bankruptcy of farmers and freezing business investment. According to A September 2019 study by Moody's Analytics, the trade war had cost the U.S. economy nearly 300,000 jobs and an estimated 0.3% of real GDP. Also, the Federal Reserve Bank of New York and Columbia University found that the U.S.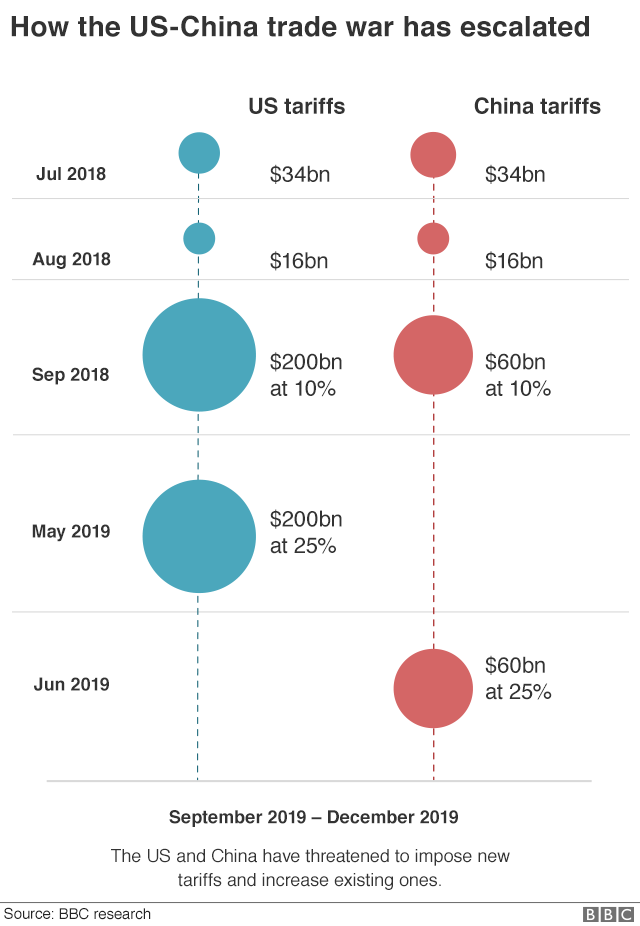 This chart shows how the trade war has played out. As the United States and China have imposed tariffs on each other's goods, business owners can't avoid increased tariffs to export. What specific goods have had the most damage? Are there any industries that fall apart massively?
Religious
China consists of a communist society. Like the other communist countries, they regulate the right to have religion because it disturbs that the power is centralized to government. In China, especially Muslims, who live in the Western region of China, have been threatened. Chinese government removed crescent symbols from mosques and prohibited traditional Islamic clothing and log beard. As the trade continued, countries concentrate on protectionism for their goods, workers, and businesses. However, a trade war creates a backlash against other countries. Furthermore, economic growth is also falling, making it difficult for oppressed religious people to live. So far, we know that the trade war has a bad influence on religious people, but can it have a good influence on religious people?
Military
According to Robert Farley, who is an assistant professor at the Patterson School of Diplomacy and International Commerce, 'partners with a range of social and economic connections to the United States were more likely to become politically and militarily connected to the U.S. as well, granting access to bases and similar facilities, and the U.S. Navy largely guaranteed the security of the maritime trade lanes that allowed the global trade system to function.' The trade war is connected to military issues, because to export and import goods, a security check is necessary. Does this army security increase tensions during the trade war? If so, what affects the military?
Social
Imposing tariffs is directly connected to an increased price to consumers. According to Matthew Shay, the president and CEO of the National Retail Federation said, "A tit-for-tat trade war has erupted and American families are caught in the middle". Also, Shay called tariffs "taxed on consumers." Trump administration imposed tariffs on household-related products such as dishwashers, water filters, and copying machines. He also imposed tariffs on crops-related products like orange juice. It leads to slow sales for farmers, and job-creating will be decreased in the long term. The U.S. companies dependent on imported aluminum and steel-such as cars, canned food, soda, and beer- will have to absorb the higher costs somehow, meaning that layoffs or price hikes on finished products down the road, according to Michael Salerno, lead director of global banking at First National Bank of Omaha. Is this an opportunity for people who were not interested in politics and society, to make them aware of social issues? If so, what are the direct effects of these people recently interested in social issues?
Historical Significance
As countries around the world develop, we can't avoid disputes happening with each country. War, battle, spy, terror, and assassination… to get power, and to be strong, conflicts are frequent. Before the 18th and 19th centuries, World War I and World War II happened. However, now, people want peace. They don't want a war with nuclear, guns, and bombs. Each country has avoided physical attacks, but instead, it has begun to launch invisible attacks that could threaten its economy. The trade war began in 1913 in major European countries. They began to enrich each country by engaging in protective trade and implementing policies. In 1963, six European countries imposed 13.43 percent tariffs on U.S. products to protect their domestic goods. Due to the Opium War, China banned the opium trade but eventually legalized it. Issues related to the economy are dangerous and important enough to control the power of the country. The trade war is also one of the actions that must be taken to protect their goods. However, a trade war requires a lot of sacrifices. The purpose of the trade war in the past was to prioritize the protection of the country's goods. However, when a trade happens, prices rise, and it disrupts the growth of business and choices to buy products for consumers. From a historical point of view, was the trade war really the right thing? What was the cause and effect of the trade war in the past?
Cause and Consequences
As you see from the chart above, the annual U.S. trade deficit with China has increased and there were no profits. According to Kimberly Amadeo, a writer of The Balance, 'most economists agree that China's competitive pricing is a result of two factors: a lower standard of living, which allows companies in China to pay lower wages to workers, and an exchange rate that is partially fixed to the dollar. If the United States implemented trade protectionism, U.S. consumers would have to pay higher prices for their "Made in America" goods.' In conclusion, due to these reasons, the United States has always a deficit in trade with China. Trump realized this problem, so he campaigned and made a platform about protectionism and sanctions against China even before he got elected. Eventually, Trump imposed a 25% tariff on Chinese goods such as solar panels and aluminum, which lead to an increased price and pass on to consumers ultimately. How do imposing tariffs influence the international market and economy of China?
Change and Continuity
We now know that the United States and China had a trade war by imposing tit-for-tat tariffs. After this, they signed the Phase 1 trade deal in January with the hope that the trade war is over. However, COVID-19 and strikes in Hong Kong made tensions between the two countries to increase. Because COVID-19 was started in China, Trump thought that it attacked the U.S. economy. Scott Paul, president of the Alliance for American Manufacturing, which includes manufacturers and the United Steelworkers union said, "A ceremony at the White House can't hide the stark truth about the 'Phase 1' China trade deal: The deal does absolutely nothing to curtail China's subsidies to its manufacturers." Is there any change in the U.S and China economy now after the trade deal in January? If not, do the tensions between the two countries continue?
Ethical Judgement
The trade war is controversial in which the victims and beneficiaries co-exist. Trump administration imposed tariffs to keep China's rapidly rising economy in check, and China responded by imposing tariffs on U.S. goods. Many business owners are troubled by the U.S.-China trade war because the two countries are the strongest in terms of economy, and there are many goods exported and imported. The international stock market is also affected. The trade war will intensify as they can keep each other in restraint. However, what about the victims of the trade war?

They are typically businessmen who rely on goods and resources from either China or the United States. With tariffs of more than 20 percent, they get a lot of burdens to pay the tariffs. Business collapses, and income decreases, causing problems in the economic flow by not hiring employees. Also, consumers have less choice. Consumers who frequently purchase goods from the U.S. and China cannot afford to buy goods or hesitate to purchase it because of increased tariffs. Vietnam and Thailand are the biggest beneficiaries of the trade war, according to CNBC. It is because the company found goods from other countries to replace the U.S. and Chinese products. It is ironic that the U.S. and China started a trade war, but the U.S. and China had damage and other countries got benefits from it. Vietnam and Thailand have benefited, but countries like Japan, Canada, and South Korea, which are trading partners with the U.S. and China mostly, couldn't avoid difficulties. Conflict is inevitable to develop something. However, should we continue with it if conflicts result in making victims? The trade war even led to the bankruptcy of farmers. The stock market fell, losing around $1.7 trillion. Restoring a collapsed economy requires a lot of time and effort. In terms of these problems, should they continue the trade war?
The Controversy
As the continuation of China–United States trade war for one year, the trade war is controversial. Advocates say trade wars protect national interests and provide advantages for domestic companies. However, many critics claim that the war has ultimately harmed many companies, companies, and consumers. It leads to stagnation of economic development and forces people out of employment.
Citations
Unknown. BBC NEWS. "A quick guide to the US-China trade war" January 16, 2020. October 26, 2020.
https://www.bbc.com/news/business-45899310
Daniele Palumbo, Ana Nicolaci da Costa. BBC NEWS. "Trade war: US-China trade battle in charts" May 10, 2019. October 26, 2020.
https://www.bbc.com/news/business-48196495
Ryan Hass, Abraham Denmark. BROOKINGS. "More pain than gain: How the US-China trade war hurt America" August 7, 2020. October 27, 2020.
https://www.brookings.edu/blog/order-from-chaos/2020/08/07/more-pain-than-gain-how-the-us-china-trade-war-hurt-america/
Mark Zandi, Jesse Rogers, Maria Cosma. MOODY's ANALYSTICS. "Trade War Chicken: The Tariffs and the Damage Done" September 2019. October 27, 2020.
https://www.moodysanalytics.com/
Unknown. ABC NEWS. "FULL TEXT: Donald Trump's 2016 Republican National Convention Speech" July 21, 2016. October 27, 2020.
https://abcnews.go.com/Politics/full-text-donald-trumps-2016-republican-national-convention/story?id=40786529
Raul. Howmuch.net. "Mapping Exports by Country Around the World" August 27, 2019. October 27, 2020.
https://howmuch.net/articles/the-worlds-biggest-exporters-2018
Heather Long, Andrew Van Dam. The Washington Post. "Economy slows, Fed hits brakes, and uncertainty clouds Washington's next steps" October 30, 2019. October 28, 2020.
https://www.washingtonpost.com/business/2019/10/30/us-slowdown-deepens-economic-growth-slips-percent-pace-third-quarter/
Dorcas Wong, Alexander Chipman Koty. China Briefing. "The US-China Trade War: A Timeline" August 25, 2020. October 28, 2020.
https://www.china-briefing.com/news/the-us-china-trade-war-a-timeline/
Ana Swanson. The New York Times. "Trump Defends China Trade Deal After Adviser Says It's 'Over'" June 23, 2020. October 31, 2020.
https://www.nytimes.com/2020/06/23/business/economy/trump-navarro-china-trade-deal.html
Ana Swanson, Alan Rappeport. The New York Times. "Trump Signs China Trade Deal, Putting Economic Conflict on Pause." Published January 15. 2020. Updated June 23, 2020. October 31, 2020.
https://www.nytimes.com/2020/01/15/business/economy/china-trade-deal.html
Kimberly Amadeo. The Balance. "US Trade Deficit With China and Why It's So High" October 12, 2020. October 31, 2020.
https://www.thebalance.com/u-s-china-trade-deficit-causes-effects-and-solutions-3306277
Evan Pheiffer. TBY. "5 MORE TRADE WARS IN HISTORY" February 11, 2020. October 31, 2020.
https://www.thebusinessyear.com/5-more-trade-wars-in-world-history/focus
Rober Farely. The Diplomat. "Trade Wars Are Not Good for the US Military Advantage" July 26, 2018. November 1, 2020.
https://thediplomat.com/2018/07/trade-wars-are-not-good-for-the-us-military-advantage/
Dan Granfield. The Bulwark. "Religious Freedom>Trade Wars" February 10, 2019. November 1, 2020.
https://thebulwark.com/religious-freedom-trade-wars/
Jessica Dickler. CNBC. "In a trade war, it's consumers who may lose" Jun 27, 2018. November 1, 2020.
https://www.cnbc.com/2018/06/27/how-a-trade-war-impacts-you.html
James Holmes. The National Interest. "It's Time for a Massive U.S. Navy Base in Australia" November 17, 2019. November 3, 2020.
https://nationalinterest.org/blog/buzz/its-time-massive-us-navy-base-australia-97051
Ryan D. Martinson. U.S. NAVAL INSTITUTE. "Deciphering China's 'World-class' Naval Ambitions" August 2020. November 3, 2020.
https://www.usni.org/magazines/proceedings/2020/august/deciphering-chinas-world-class-naval-ambitions
Michael Collins. Industry Week. "It is Time to Stand Up to China" June 13, 2020. November 3, 2020.
https://www.industryweek.com/the-economy/trade/article/21974236/it-is-time-to-stand-up-to-china
Unknown. November 3, 2020
image.baidu.com/search/indextn=baiduimage&ps=1&ct=201326592&lm=-1&cl=2&nc=1&ie=utf-8&word=铝矿.
"The Trade War Is Really About Innovation." Wharton Magazine, 28 Oct. 2019, November 3, 2020
magazine.wharton.upenn.edu/digital/the-trade-war-is-really-about-the-future-of-innovation/.